Description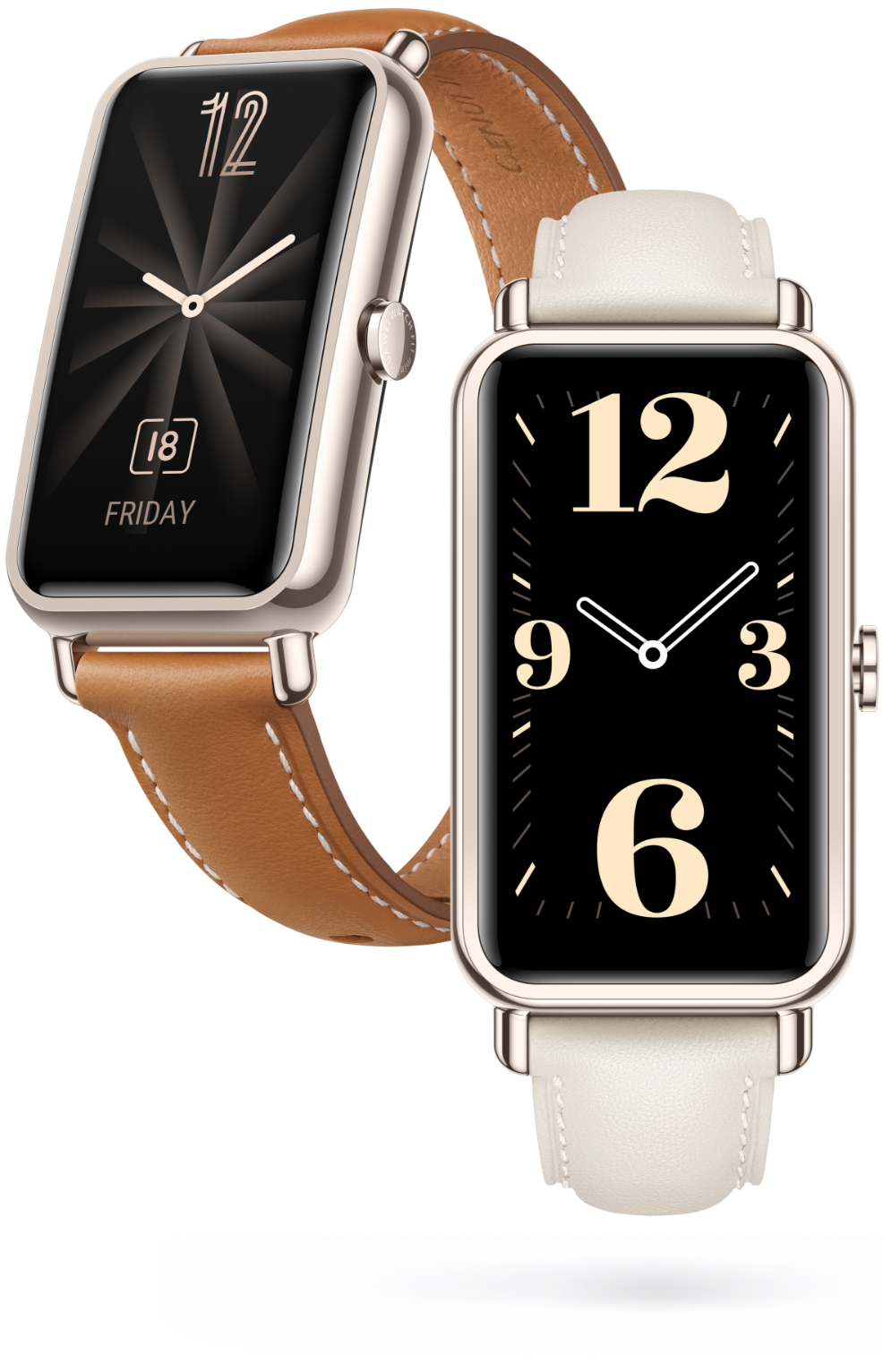 Classic Rectangular Watch Design | 2-Week Battery Life1 | Women's Health Care
6 Things to Love
Classic Rectangular
Watch Design
Style Your Way to
Fitness
Discover a truly stylish way to track your health and fitness.
Combining a classic rectangular look with powerful sports modes
and health features, HUAWEI WATCH FIT mini offers you a fitter
way to achieve your goals.
Beauty Squared
Attain true elegance of form with the classic rectangle design of HUAWEI WATCH FIT mini. Delight in the sleekly rounded corners and edges of the lightly gold-coloured metal case, and achieve timeless beauty in a smartwatch.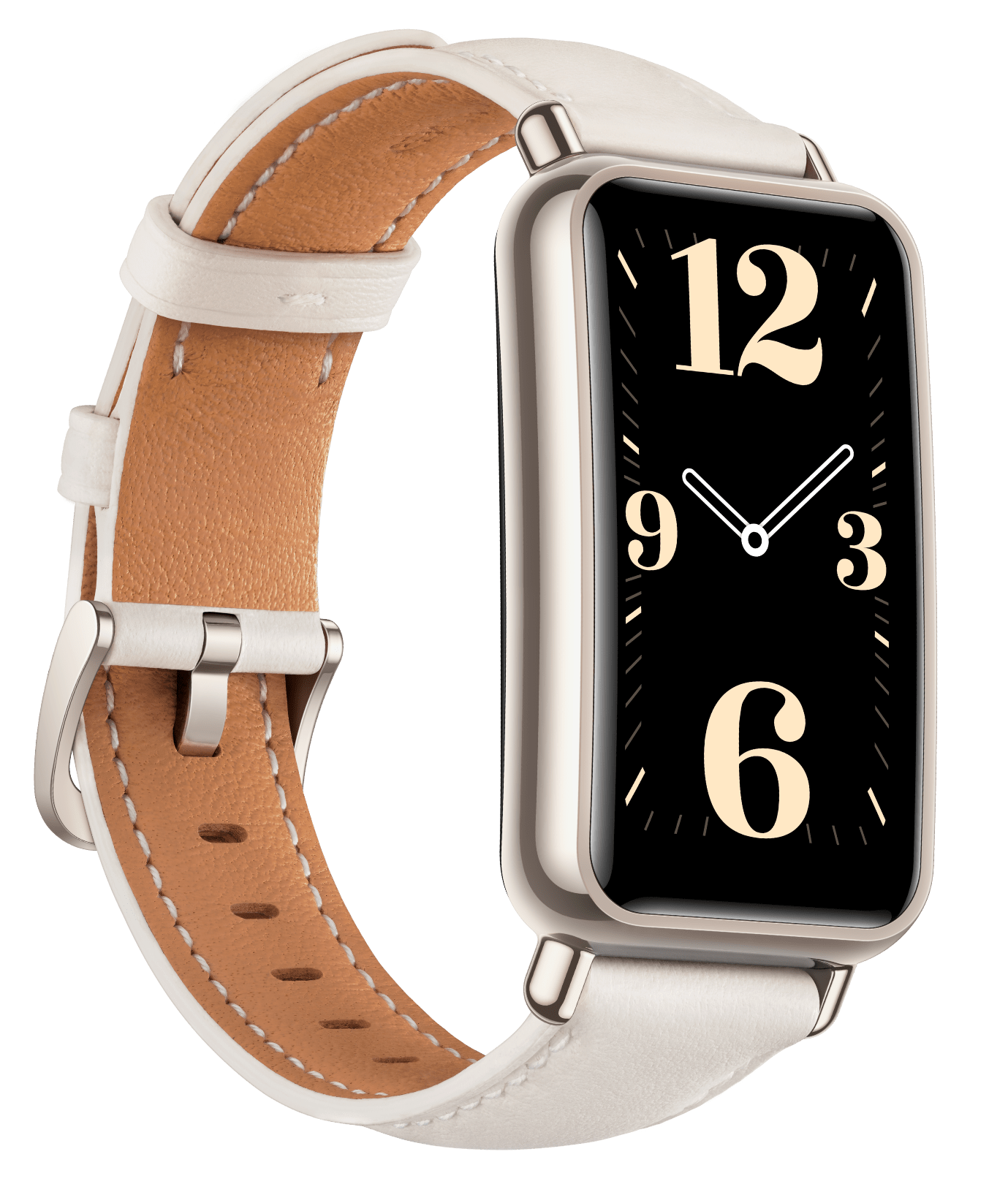 The Essence of
Finesse
Each element is designed with taste and function in mind. The slim yet robust lugs create a naturally streamlined look while the precision-engineered crown seamlessly integrates into the whole, for easy control and effortless finesse.
A Vision in Time
A wonder for your senses, the 1.47″ AMOLED FullView touchscreen on HUAWEI WATCH FIT mini presents an outstanding display. Go for the classic numeral watch face, or choose from 5 more pre-installed faces, each one suited to the different ways you live. Plus, peruse the HUAWEI Watch Face Store2 to pick from over 300 more faces.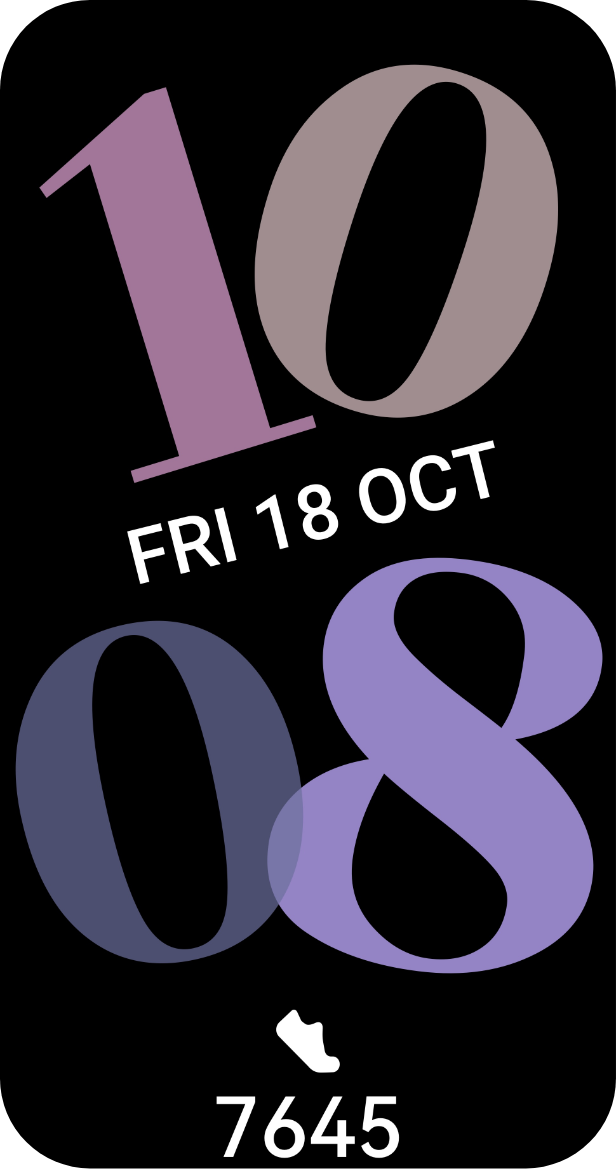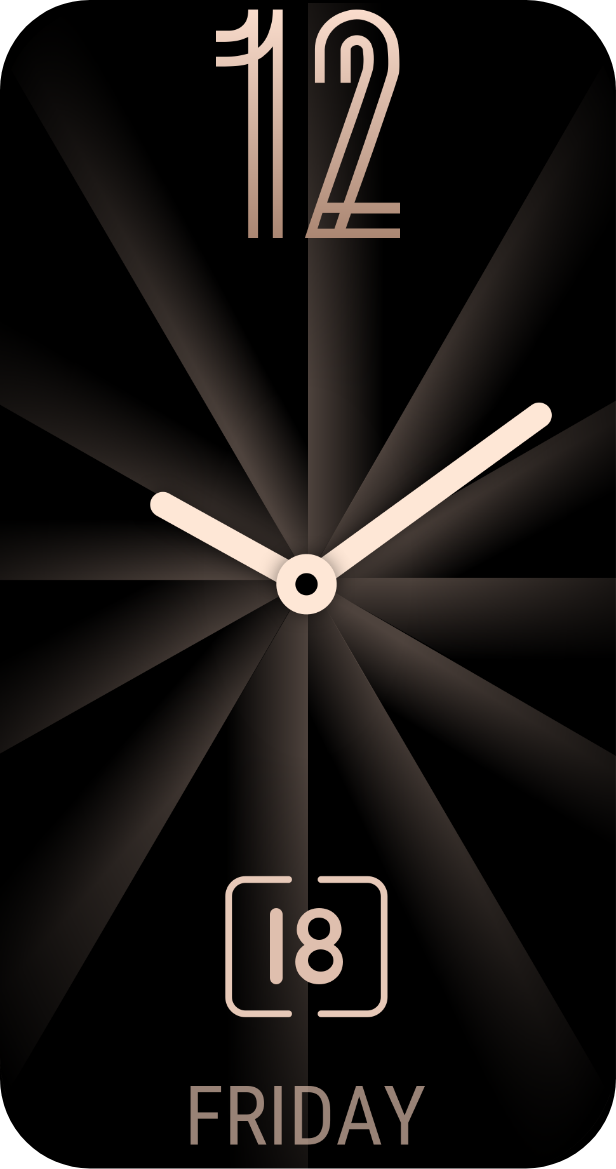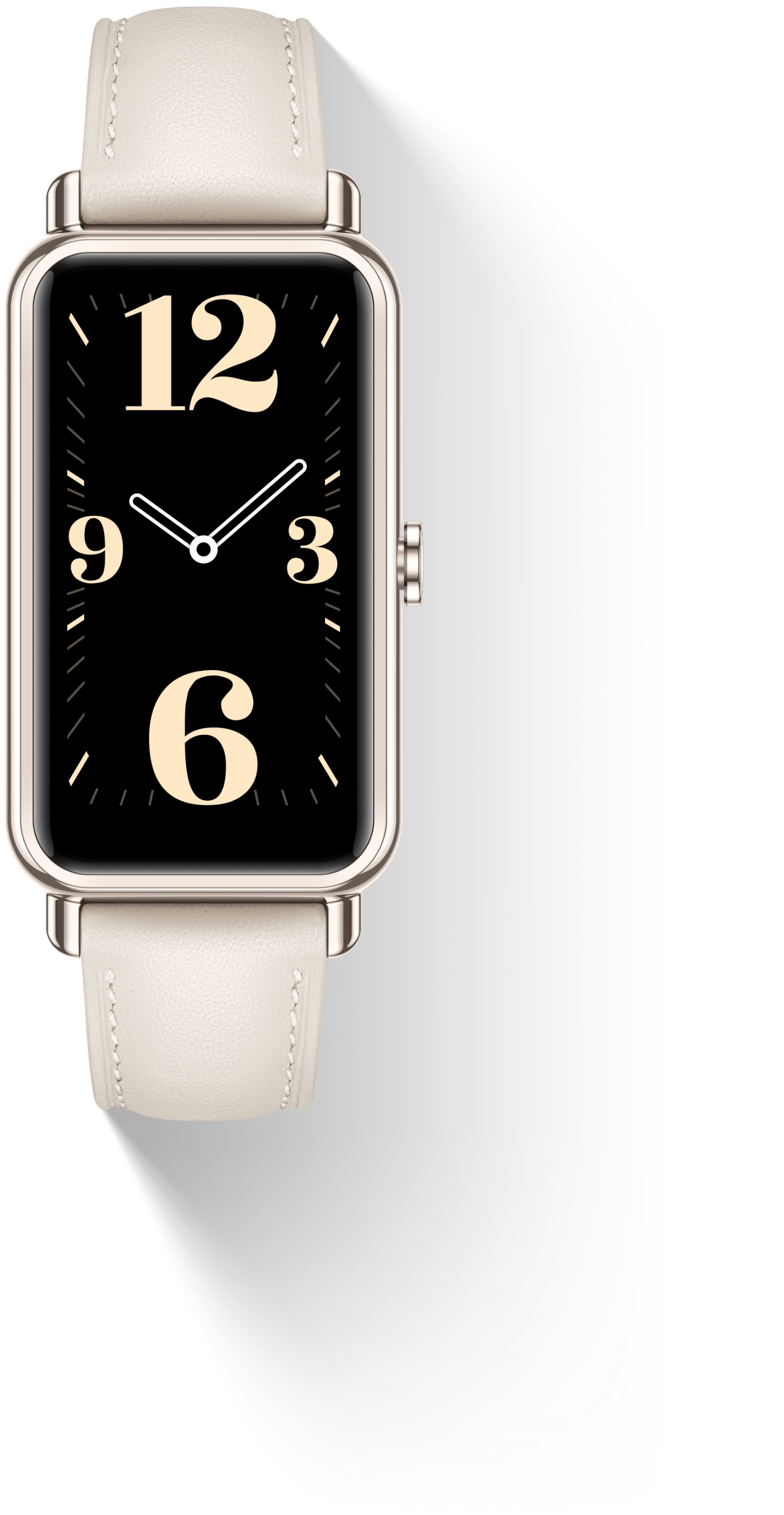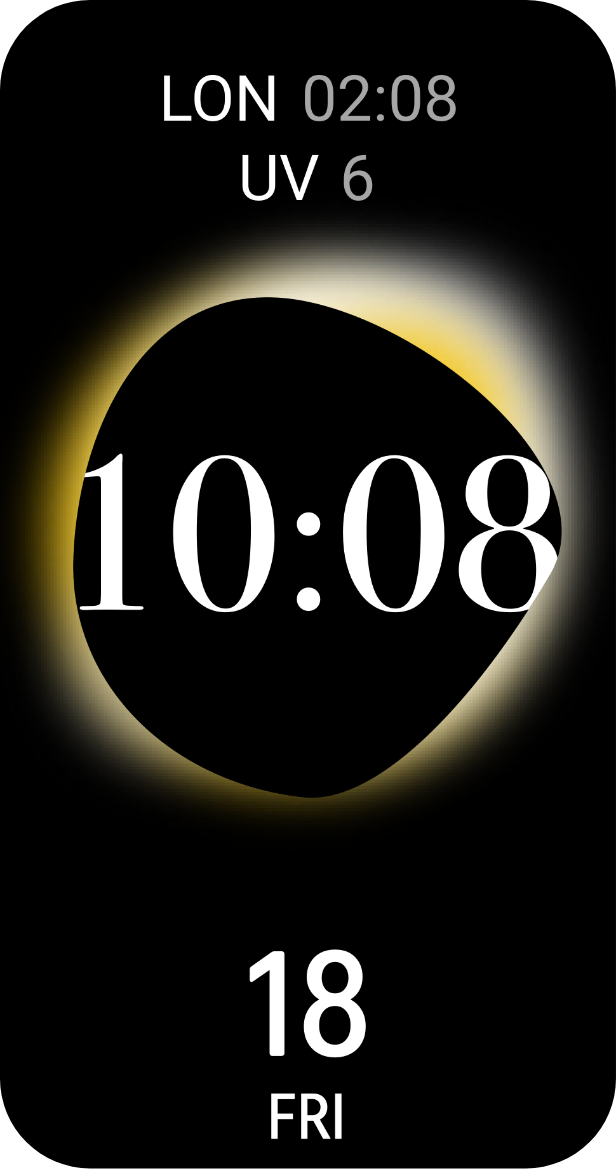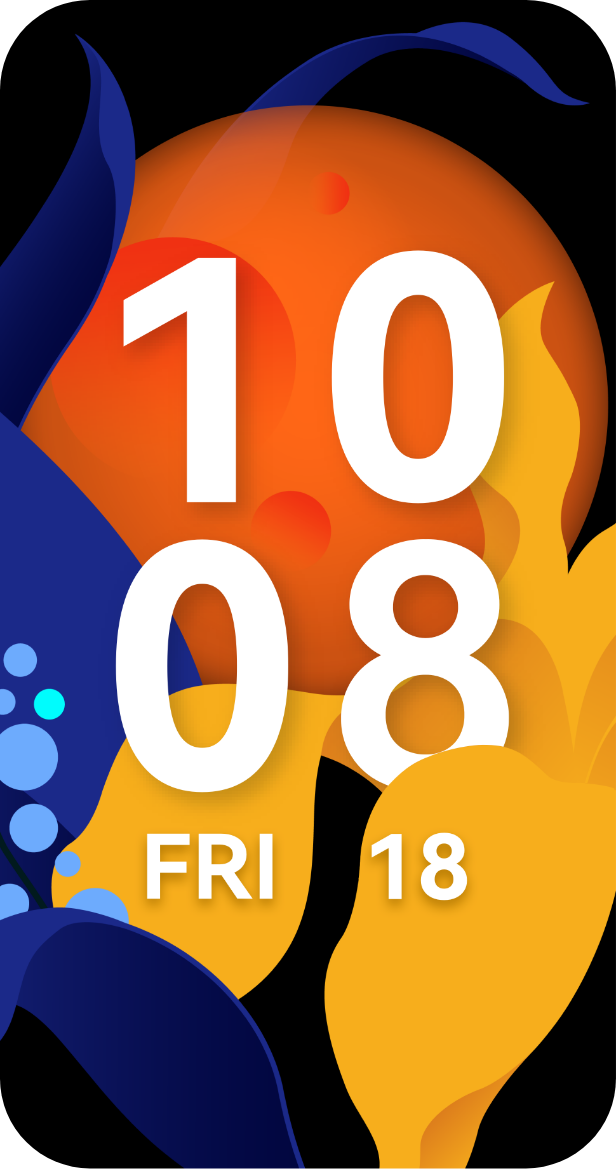 Comfortably Versatile
Give your wrist the comfort it craves and fasten in for any kind of activity with 3 different straps. Enjoy the luxury of leather, set off by the refined needlework design, in Frosty White or Mocha Brown. Or, for a more energized look, choose the durable, allergy-resistant fluoroelastomer strap in eye-catching Taro Purple.
Designed to Fit In with You
With its gently curved design, shaped to the contours of your wrist, and lightweight aluminium-alloy body, HUAWEI WATCH FIT mini fits with the way you are and the way you move.
Go Smart,
Last Longer
HUAWEI WATCH FIT mini offers an incredible 14 days' battery life for typical use, and 10 days for heavy use. When you do run out of battery, no problem — achieve 2 days' use from just 5 minutes' charging time via the magnetic charger. Life's too short to be always running out of it.1
Menstrual Cycle Tracking3
Keep an easy-to-navigate calendar of your menstrual cycle with HUAWEI WATCH FIT mini. Receive discreet, timely reminders of when your period is coming — for a caring, helpful friend on your wrist.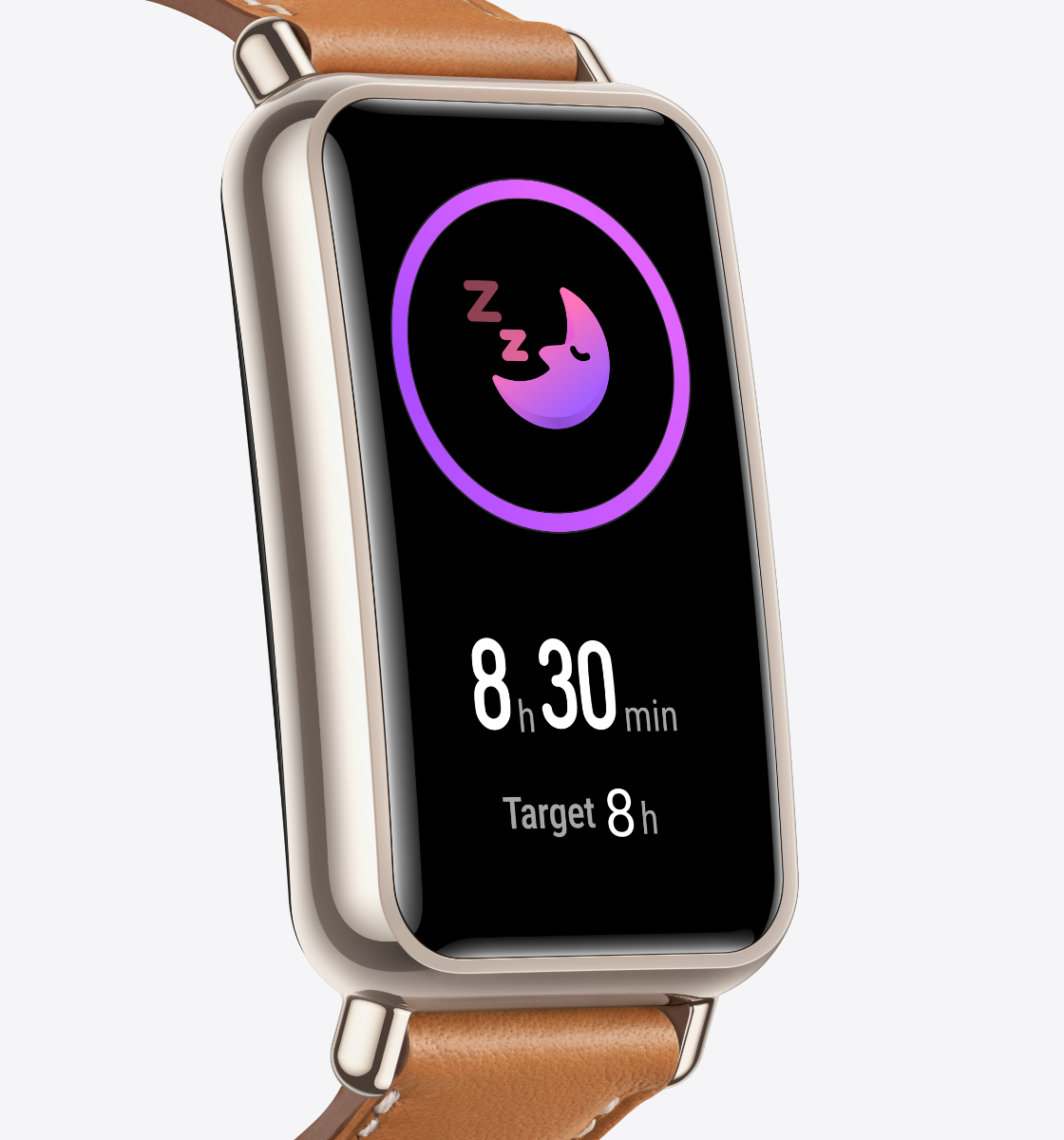 TruSleep™ 2.0 Sleep Tracking
Enjoy better quality sleep with TruSleep™ 2.0 on HUAWEI WATCH FIT mini. 4 different sleep states — deep sleep, light sleep, REM, and napping — can be tracked with 96% improved accuracy. Plus, receive over 200 sleep improvement suggestions for 6 major sleep problems.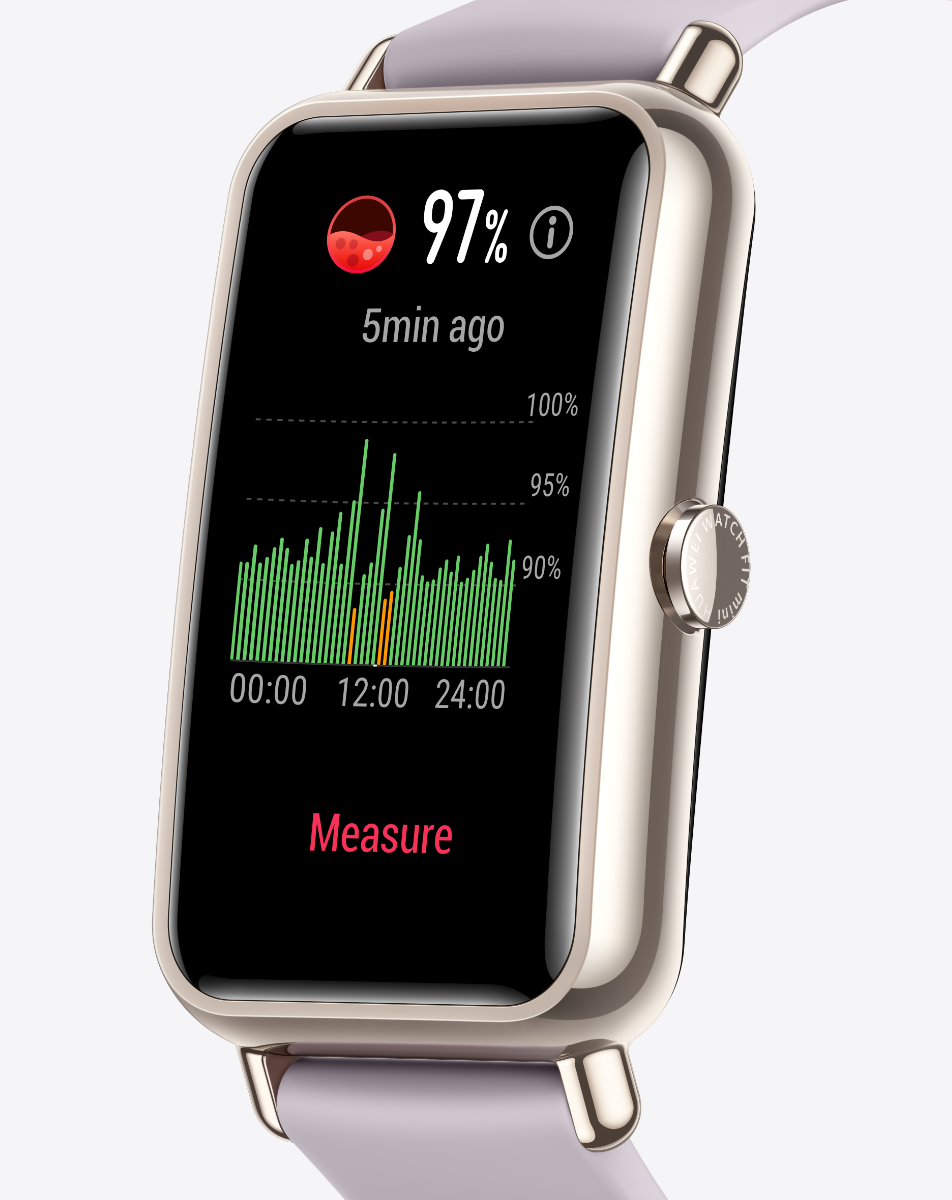 All-Day SpO2 Monitoring4
When your blood oxygen saturation, SpO2, is low it can cause fatigue, memory loss, and even brain and heart damage. For these reasons, you'll want to make sure you always stay in the safe zone. HUAWEI WATCH FIT mini has a built-in SpO2 detection system that monitors your blood oxygen saturation 24/7. If it drops too low the watch vibrates, so you can take time out to breathe and regain your equilibrium.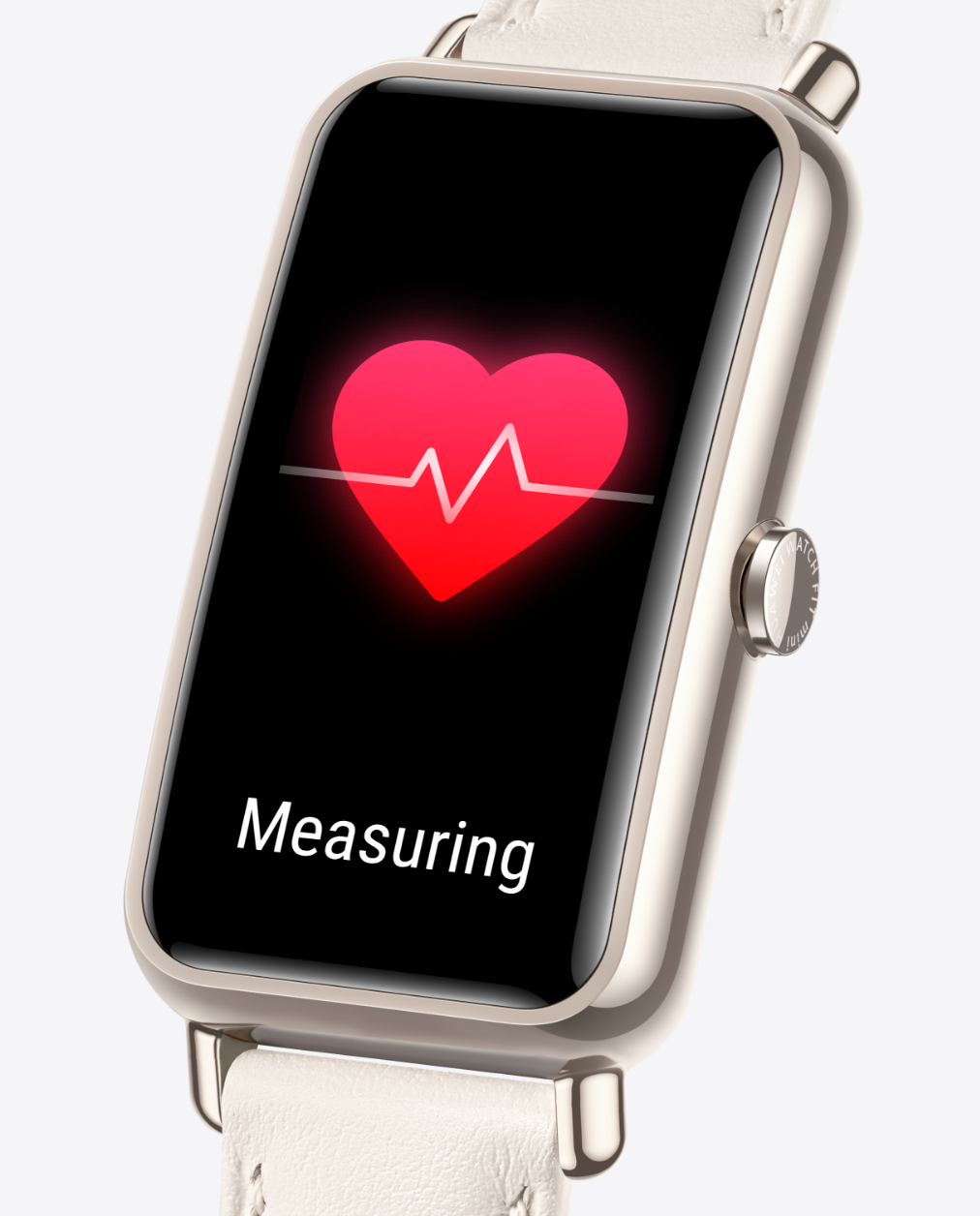 24/7 Heart-Rate Monitoring
Keep in step with your heart via TruSeen™ 4.0 heart-rate monitoring technology. Thanks to the precision optical lens and AI-based data processing, you'll be able to get an accurate reading of your heart rate 24/7, and be instantly alerted if it goes above or below safe levels.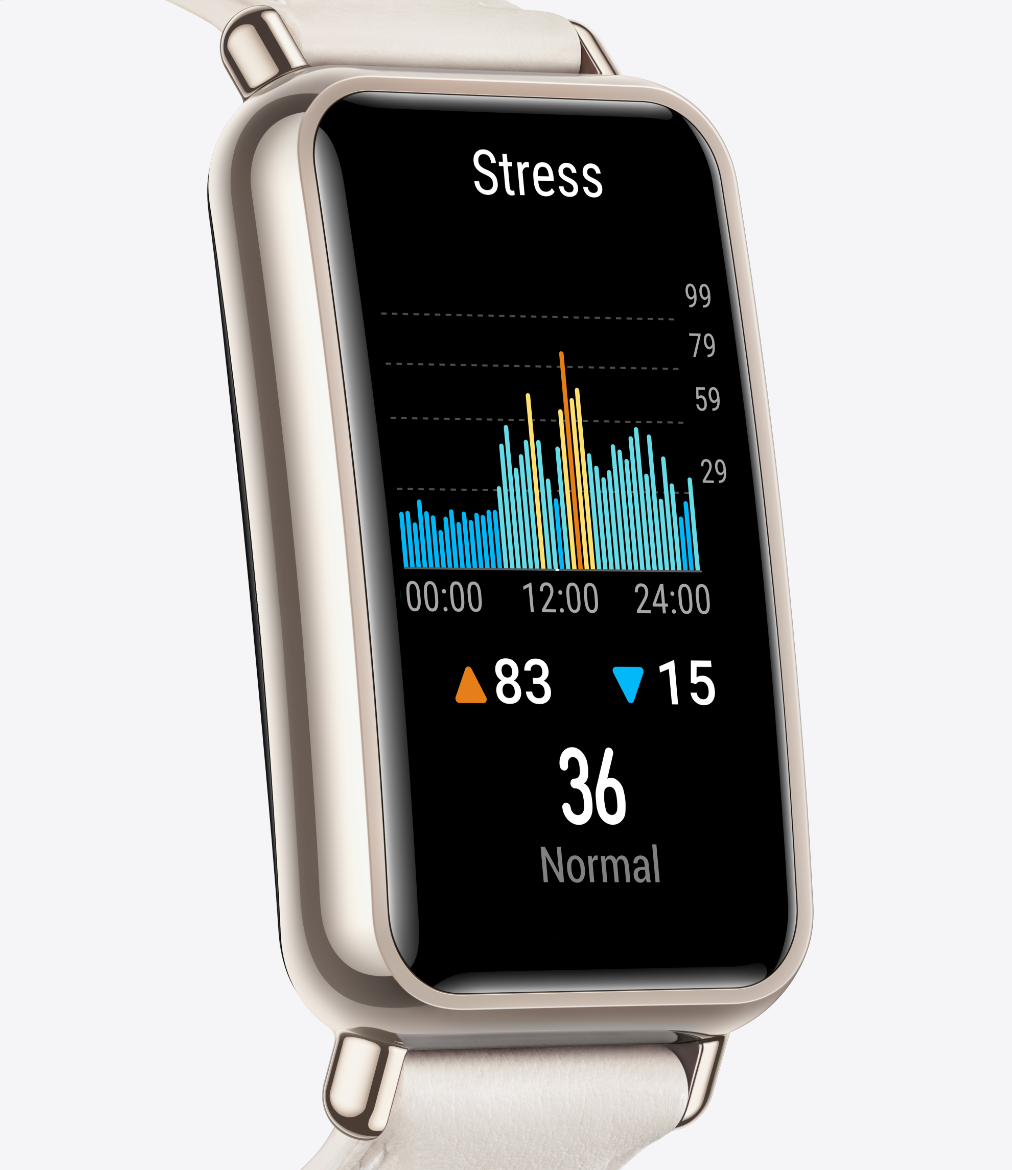 TruRelax™ Stress Monitoring
Bring calm to those everyday stresses. TruRelax™ stress monitoring lets you know when things are getting on top of you, letting you employ the built-in breath training guide to keep yourself grounded at all times.
Get Into Activity Mode
Choose from up to 96 different indoor and outdoor exercise modes5. Plus, monitor your activity levels with 3 daily activity goals — Steps, Hours Active, and Moderate-to-High Intensity Activity — via colourful, eye-catching rings.
Work It All Out
Keep track of your heart rate, calories burned, and more during workouts, including the new jump-rope workout. See all your data stored and analysable in easy-to-read graphs, so you can chart your fitness journey and set goals that inspire you.
Personal Assistant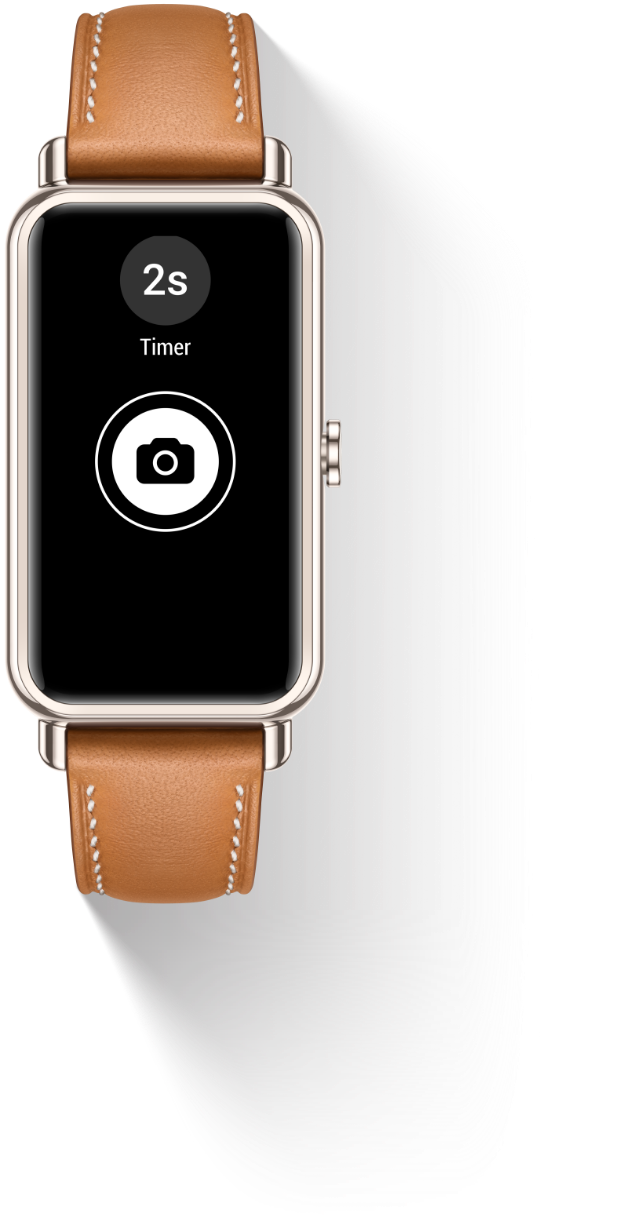 Remote Shutter6
Use the Remote Shutter feature to take photos through your phone's camera, and never be left out of group photos again.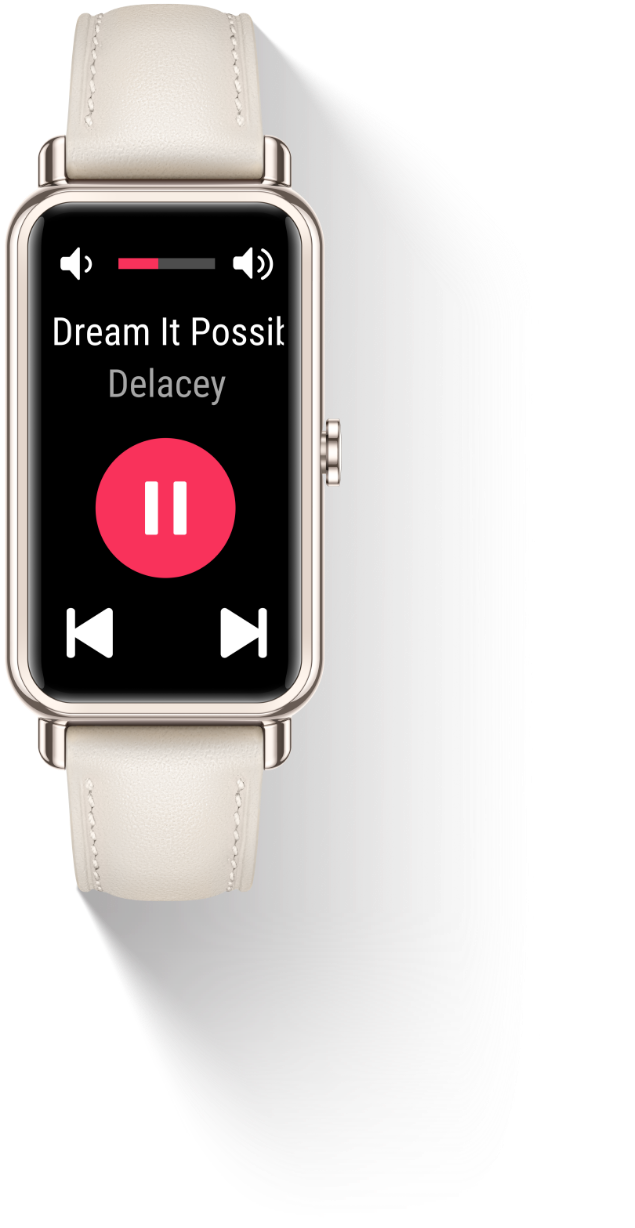 Control the Music7
Take control of your music playing on your phone via HUAWEI WATCH FIT mini.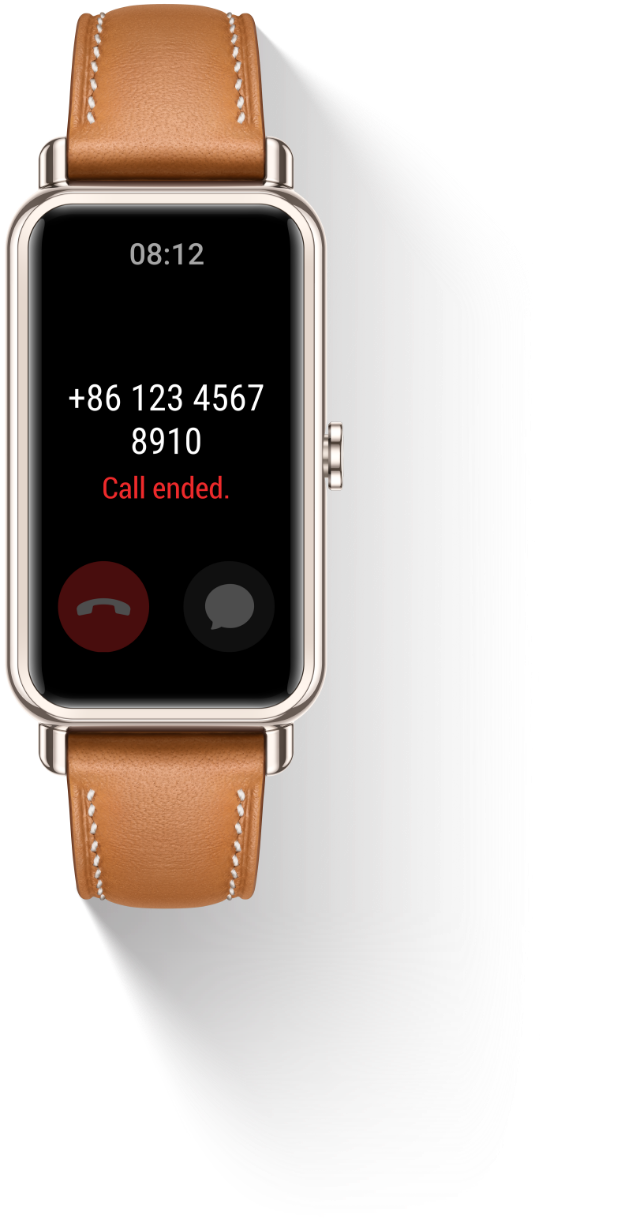 Call Notification
When you've got a call coming through, see who it is from the convenience of your wrist.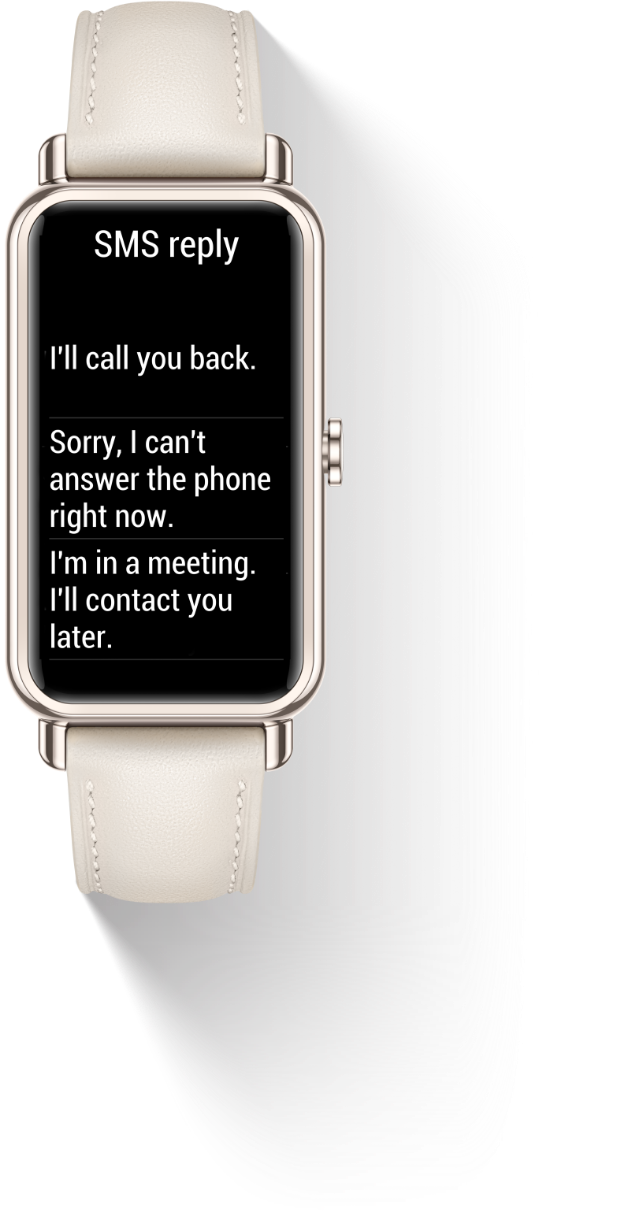 Instant Message Reply7
Too busy to take the call? Instantly reply with an automated message or simply decline the call, without needing to grab for your phone.
Based on results from HUAWEI lab tests. Battery life depends on actual usage conditions.
Typical usage is 14 days, under the following conditions: heart-rate monitoring and sleep tracking on; screen checked briefly 200 times, 50 messages, 6 calls and 3 alarm reminders within 24 hours; workout for 30 minutes per week.Heavy usage is 10 days, under the following conditions: heart-rate monitoring on and HUAWEI TruSleep™ on; screen checked briefly 500 times, 50 messages, 6 calls and 3 alarm reminders within 24 hours; workout for 60 minutes 

per week.

Availability may vary depending on country or region. Only available on Android 6.0 or later, and iOS 12.0 or later. Certain watch faces require purchase and are not available 

on iOS.

Not supported when connected with an iOS phone. Availability may vary by country 

or region.

Blood oxygen saturation refers to the percentage of oxygen-saturated hemoglobin relative to total hemoglobin in the blood. This product is not a medical device, and is not intended to diagnose, treat, cure, or prevent any disease. Availability may vary 

by region.

Outdoor cycling is supported only on phones running EMUI 5.0/iOS 9.0 

or later.

Only supported on phones running EMUI 8.1 

or later.

Not supported while connected with an 

iOS phone.
51.52 mm x 25.91mm x 11.04 mm

*Product size, product weight, and related specifications are theoretical values only. Actual measurements between individual products may vary. All specifications are subject to the actual product.

Approximately 20 g (not including strap)

*Product size, product weight, and related specifications are theoretical values only. Actual measurements between individual products may vary. All specifications are subject to the actual product.

Size:

1.47 inches

AMOLED colour screen

Supports slide and touch gestures.

Resolution:

194 x 368 pixels, PPI 282

Material:

Aluminum case

Durable polymer materials bottom case

Frosty White Leather Strap

Mocha Brown Leather Strap

Taro Purple Fluoroelastomer Strap

6-axis IMU sensor (Accelerometer sensor, Gyroscope sensor)

Optical heart rate sensor

Full screen touch, side button

Magnetic charging thimble

Android 6.0 or later

iOS 9.0 or later

5 ATM water-resistant

*Devices complying with the 5ATM-rated water have a water resistance rating of 50 meters under ISO standard 22810:2010. This means that they may be used for shallow-water activities like swimming in a pool or ocean. However, they should not be used for scuba diving, waterskiing, or other activities involving high-velocity water or submersion below shallow depth.

Bluetooth

2.4 GHz, BT 5.0, BLE

Ambient operating temperature: -10℃~+ 45℃

Typical usage: 14 days

Heart rate monitoring is enabled, sleep tracking is enabled. Screen is checked briefly 200 times per day, 50 messages, 6 calls and 3 alarms reminding in 24 hours, and workout for 30 minutes per week.

Heavy usage: 10 days

Heart rate monitoring is enabled, HUAWEI TruSleep™ is enabled. Screen is checked briefly 500 times per day, 50 messages, 6 calls and 3 alarms reminding in 24 hours, and workout for 60 minutes per week.

(The typical usage scenarios are decided based on the user habits. The specific battery life depends on the user habits and usage frequency.)

Charger Voltage and Current Requirements:

5V 0.5A/1A/1.5A/2A

Watch x 1

Charging Cradle (including the charging cable) x 1

Quick Start Guide & Safety Information & Warranty Card x 1