Description
The Hikvision DS-PK1-E-WE is a two-way wireless remote alarm keypad that is designed to be used with the AX PRO system for alarm control and operation.
With stable, secure and straightforward arming, the DS-PK1-E-WE offers up to 1200m transmission distance and features a handy one-touch call for help button.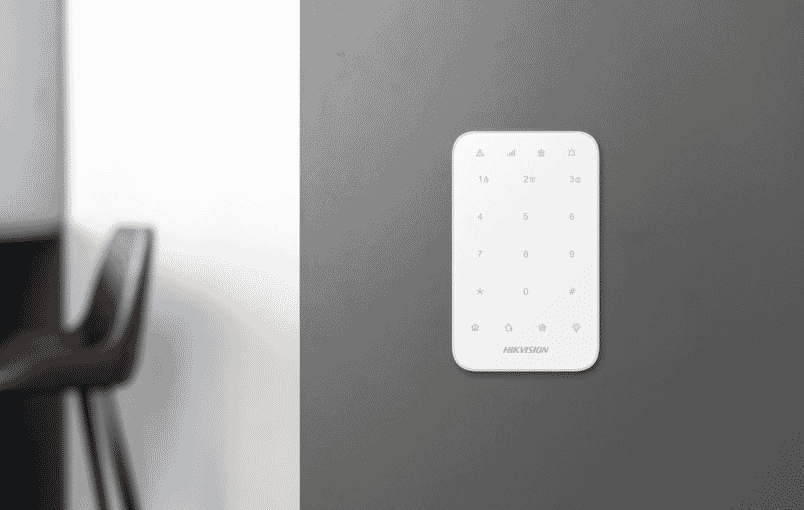 As with all AX PRO components, the DS-PK1-E-WE is full configurable and controllable through the Hik-Connect app with multi enrolment methods and easy installation design.
The DS-PK1-E-WE also features AES-128 encryption and frequency hopping to prevent signal jamming and provide and stable and secure connection at all times.
The backlit LED touch design buttons indicate the area that has been programmed and offers a one button push feature for fire alarm, panic alarm and medical emergency.
Features:
868 MHz two-way wireless communication
AES-128 encryption
Stay/away arming, disarming, alarm clearing for specified area or all areas
LED indicates the programmed area
One-Push fire alarm, panic alarm, and medical alarm. Silent/Audible alarm selectable. etc.
Output control
Full touch key design with LED backlight
Fully remote configurable through App
Multiple enrolment methods and easy installation design
Easy replaceable battery
Frequency hopping against jamming for reliable transmission
Product Specifications
RF
Frequency
868 MHz
Modulation
2GFSK
Distance
1200m (open area)
Interface & component
Tamper switch
Supported, front and rear panel tamper-proof
Power switch
Power on/off
Buzzer
Supported
Indicator
4: fault (orange), enrolment/signal (red/green),
arming(red/green/blue), and alarm (red)
Backlight
white
Key
Number key: 0 to 9
Function key: *, #, stay arming, away arming, disarming,
and output
Application & protocol
Protocol
Tri-X, two-way communication
Electrical & battery
Consumption
1.5 VDC
Battery type
Four AA batteries
Battery life span
Standby time more than two years
Other
Operation humidity
10% to 90% (No condensing)
Operation temperature
-10 °C to +55 °C (-4 °F to +122 °F)
Colour
White
Installation
Screw mounting
Dimension (W x H x D)
140 (5.50″) x 86 (3.38″) x 22 (0.87″) mm
Weight
Without batteries: 151 g (5.33 oz), and 23 g (0.81 oz) each battery